In his many years working in energy, Rafael Patron has learned the power of cultivation. As the director of operations at Tenaris's McCarty threading facility in Houston, Texas, he manages a team of over 350 people, each with different expertise and needs.
His approach to leadership involves finding people's strengths and putting them in the right places – nuanced work leads to excellence. "Everything is about connecting – as a person, not just as an engineer", said Patron. "From a leadership perspective, I am there to help the team be the best they can be. When people understand that, it helps them to relax. I honestly believe that they now know that my first question is, 'What can I do to help you?' The moment you are not humble, you are not learning."
Patron came to Tenaris in January 2020, arriving at the start of a double-whammy for business: the pandemic and the oil crisis. It was a difficult time for the business as well as for people at home. The moment reinforced for him the importance of cohesiveness within his team. "The pandemic was a wake-up call for even the best performers that we cannot win alone. Even a rock star needs a band."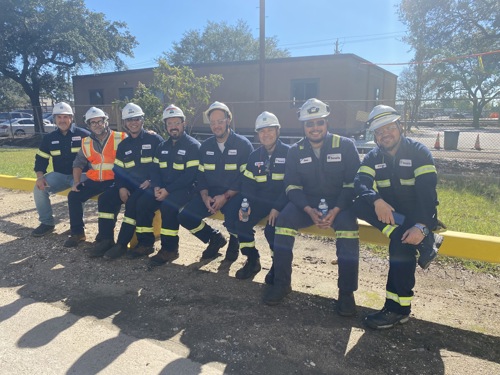 When he first arrived, Patron spent time observing and listening. "Tenaris is a great company. I was not thinking I needed to do a drastic change. McCarty is a complex facility with the number of movements we have. My strategy was to come, ask questions, connect with people, see how they work, provide feedback where I saw there were opportunities. I wanted to see what was already working well, then see where I could add value."
Patron approached his new position from a place of learning. "I tend to focus on processes and people by asking a lot of questions. 'How does that work? Why do we do it this way? Can it be done differently?' I believe these open questions stimulate the team to reflect, think different and innovate."
Once he formed a deeper connection with both people and processes, Patron looked at small, clear-cut ways to make positive change, taking his individual team members into close consideration. "It is very important to start by providing clarity on what needs to be achieved and creating an environment where the team can focus, grow, and be fulfilled while chasing their goals. With that in place, I do my best to be close to the team, making myself available and providing constant feedback. In the process of doing so, it is very important to tailor the approach as the individuals have different needs. Some need room to work independently, take calculated risks and be recognized for their evolution and accomplishments. Others might need a closer and more constant interaction for specific guidance and support to build their confidence to shine. The key for me is not to have a 'one size fits all' approach and pay constant attention to promptly react to the needs of the team. There is nothing more satisfying than building a cohesive team that works well together!"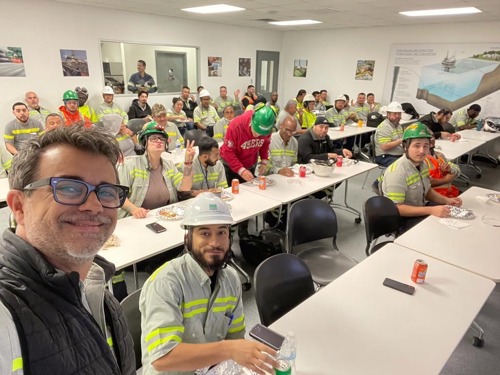 Bringing out the best in people, for Patron, means getting to know them well and finding a place for them to succeed. And although it takes time, results show it's worth it. The team has a culture of excellence with a number of McCarty employees, said Patron, who are contributing to the plant's performance through creativity and innovation.
Patron has seen the culture of connection flourish over his three years at Tenaris. "This team is pulling off a lot of tough challenges. The performance and drive at McCarty come from an environment that we have been building and changing over time. We work to make people's jobs easier, faster, and more enjoyable."
What's doubly impressive is how the culture has grown during one of the most challenging work times in recent years. The pandemic proved to be difficult for people across the globe, including in Tenaris offices. Patron spoke about that time, as well as a way the team galvanized with a little bit of fun. "We all suffered both personally and professionally with the isolation created by the pandemic. Even though we never stopped the plant due to the incredible commitment from our teams, the work dynamic was significantly impacted. People were in deep need of social interaction again. A soccer tournament was a natural response to that need. The idea truly came out of an ordinary chat on the floor with the team, and in a matter of few weeks and with their help, we had it all set and ready to go!
During about two months, the teams played against each other on the weekends while friends and families supported them. More than the competition itself, it was a joy seeing the smiles on the faces and the happiness of finally enjoying each other's close company again."
The cohesiveness, whether on the floor or the field, makes for a better day, happier teammates, higher quality work, and deeper satisfaction. Patron could see the similarities between soccer and working at McCarty. "The competition, need to create a strong team, select the best players for the different positions, dynamic strategies -- it is not by chance that there are movies and books inspired by sports that are recommended and used by business schools. And it is also not by chance that we had several very good matches during the tournament. On the field the guys showed the same collaboration, organization, camaraderie, respect, and passion that they bring to work every day!" That kind of culture, fostered and supported over time, makes McCarty a location that always strives for continuous improvement and excellence.
For more information about Tenaris, please follow us on Facebook, Twitter, LinkedIn, and Instagram.