Tenaris showcased its comprehensive range of products and services at the World Geothermal Congress, a premier global geothermal event which took place in Beijing, China, September 15-17.
During the technical program, Tenaris's experts presented two papers highlighting the company's innovative approaches to geothermal well design.
Geothermal energy is a valuable renewable resource. Efficient harnessing requires precise engineering, particularly in drilling new wells near existing productive ones. Tenaris Well Design Solutions Senior Manager Raffaello Zambetti presented the strategies for extending feasibility in well design under challenging geomechanical and thermal loads in the Larderello field in Italy. The Larderello field is well-known for its high enthalpy geothermal wells. Given the presence of highly productive wells nearby, the design for a new well has additional challenges, particularly in shallower sections. The heat flow from adjacent wells needs to be considered, hence limiting the engineering to conventional casing design may be inadequate. "To address this concern and enhance casing design, we applied a novel methodology to integrate thermal load strain-based design with the traditional working stress design, allowing for a more effective utilization of geothermal energy," pointed out Zambetti.
As for deep geothermal wells, Tenaris Technical Sales Manager David Hernández Morales presented Tenaris's solution to new challenges in casing design, which is poised to reduce operational time and drilling costs. "Drilling deeper geothermal wells in the Cerro Prieto field, Baja California, Mexico, required a reengineering of the selection of the casing setting depth with a new well structure, by incorporating a contingency casing, a new diameter using an integral connection. To overcome this challenge, we successfully tested corrosion resistant materials," explained Morales.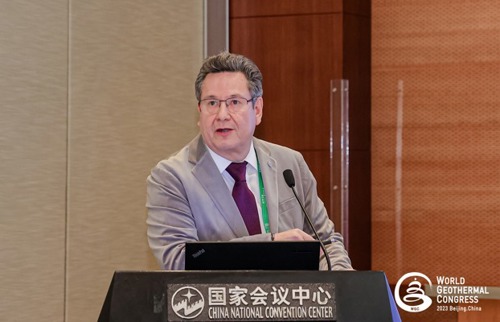 With more than 30 years of experience in supplying casing for specific geothermal drilling challenges, Tenaris can provide tailored solutions, while maximizing the safety and efficiency of customers' operations.
For more information on Tenaris solutions for geothermal, click here.
For more information about Tenaris, please follow us on Facebook, Twitter, LinkedIn, and Instagram.